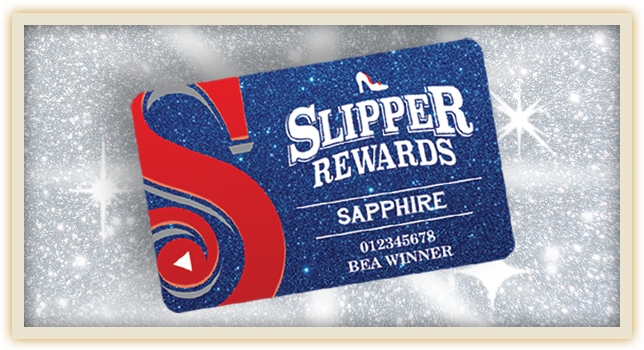 Slipper Rewards – Players Club Rules
Membership in Silver Rewards Players Club is FREE!
Card holders must be 21 years of age or older to participate.
To earn Free Slot Play while playing Silver Slipper Casino slot machines, your Slipper Rewards card must be properly inserted in the card reader box mounted on the slot machine you are playing, and must remain properly inserted for the duration of your play.
You may redeem your Free Slot Play at most slot machines.
Silver Slipper Casino reserves the right to revise or cancel this program at any time and without prior notice.
Slipper Rewards club card is non-transferable.
Your participation in the Slipper Rewards program is your agreement with and acceptance of these program rules.
**PLEASE NOTE:  Comp Points expire on the 1st of the month after 3 months.  Slot Points (Earned Free Play) expire on the 1st of the month after 6 months.
W2G's or Jackpot Information
For W2G or Jackpot information please call (866) 754-7737 or (228) 469-2777, Ext. 3811.
Win-Loss Request Form
In order for Silver Slipper Casino to release information regarding your tracked play, you must complete and submit a signed Win-Loss Request Form. To download the Request Form from our site, you must have Adobe Acrobat Reader. Download Win-Loss Request Form Here.
(Abobe 5.0 or higher required. Download the free update.)
Once the Request Form is completed, you can submit the form for processing in one of four ways:
1. By mail to the address listed on the form
2. By facsimile to the number listed on the form
3. By email to the address listed on the form
4. In person
Please allow 7 to 10 business days for request processing.
If you have any questions regarding the Win/Loss Request Form, please contact us at (866) 754-7737 or (228) 469-2777.
Credit Application
You can now print out a credit application. Please complete all information and return to Silver Slipper Casino along with a copy of your Valid Photo ID and Check.
Click Here To Download a printable PDF
Please return to:
SILVER SLIPPER CASINO
ATTN: CREDIT DEPARTMENT
PO BOX 3270
BAY ST LOUIS MS 39521-3270
If you have any questions regarding the Credit Application, please contact us at (866) 754-7737 or (228) 469-2794